Zultys, Inc.
Zultys, Inc. is a Silicon Valley company founded in 2001 delivering the most compelling feature-rich Enterprise-class IP PBX telephone system in its class today. Zultys delivers a highly flexible suite of features which may be readily customized to suit the needs of specific industries. From small business to healthcare providers to law firms, service industries to financial providers, the Zultys IP PBX and Unified Communications Systems deliver the functionality you need today and the flexibility you will need tomorrow to support your changing business requirements. These solutions are cost effective, helping your company maintain the latest technology and highest quality at an affordable cost.
VoIP Business Phone Systems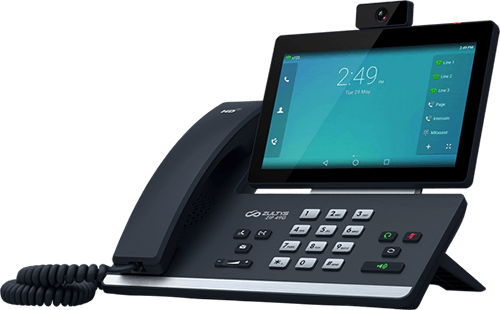 Zultys' Enterprise class IP phone systems combine best-of-breed integrated voice, data, conferencing, and Unified Communications services into one efficient appliance. Based on Linux and open SIP (Session Initiation Protocol) standards, Zultys IP phone systems come pre-installed with a full suite of business enhancing features that provide enterprise-class voice, Unified Communications, mobility and contact center services. Zultys IP phone systems can easily scale from small offices to global enterprise systems that support thousands of users through a highly survivable distributed network. Zultys IP phone systems are supported by survivable gateway and Analog-SIP gateway products.
MXVirtual
With MXVirtual, enterprises of all sizes no longer need to sacrifice features for simplicity in cloud communications. Zultys' MXVirtual delivers on both fronts, scaling to thousands of users in a single, fully redundant virtual appliance. Zultys MXVirtual integrates voice, video, data and mobility to optimize collaboration for businesses of all sizes.
MXVirtual, a VMware® Ready virtual appliance, boasts the exact same comprehensive feature set as the award winning, premise-based Zultys MX systems (MX30 & MX250). MXvirtual supports Zultys' MXIE unified communication client, Integrated Contact Center Solution, smartphone integration, advanced call routing, conferencing, large scale call recording, advanced SIP trunking with integrated session border controller and all the other great features that have won Zultys accolades for over 10 years in the telecommunication industry.
Voice & Data Systems is a Zultys Elite Partner / Dealer fully capable of taking your communications out of the closet and into the cloud… Let us show you how.
VoIP Enable Your Existing PBX
For customers wishing to protect their existing PBX investment, the Zultys MX250 is able to seamlessly VoIP enable legacy TDM systems, effectively protecting your existing investment while providing a clear migration path to a full IP Telephony solution. VoIP enabling your legacy PBX is a straight forward process often requiring nothing more than some basic changes to the Dial Plan / Routing Rules on your existing Legacy PBX.
---
To discuss how best we can help you, call (402) 571-9049 or contact us.